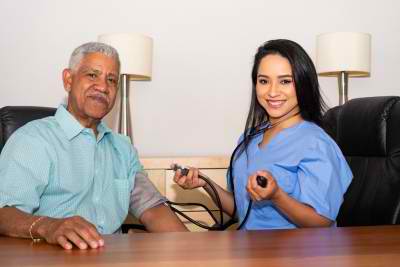 OptimumCare Home Care Services provides home health care services in Woodbridge and McLean VA to best meet the needs of our clients in their home. Whether you need one or both types of service, our licensed medical professionals are available 24 hours a day to provide for your needs. Nonmedical care focuses on assistance with daily activities (ADLs) which include eating, bathing, dressing, and toileting. Our non-medical-based care services provide registered and licensed nurses or therapists for post-op rehabilitation, therapies, wound care, IV therapies and pain management needs.
Sometimes, we know that a little help is needed, whether you're recovering from a surgery, an accident, an illness, or other situations that make it difficult to engage in daily activities safely. OptimumCare Home Care Services provides assistance with such daily activities on an hourly or 24-hour basis. Whether you need help with bathing, companionship services, or help with grocery shopping, meal preparation, or bathing, our certified and licensed home health care aides are available to provide optimal safety and security. If you're experiencing limitations caused by surgery, paralysis, illness, or cognitive impairment, you can rest assured that OptimumCare Home Care Services is there to help you improve and maintain your mobility and independence.
When you can't be there, we can. When a phone call or short visits by family aren't enough, companionship services provided by OptimumCare Home Care Services are an option. Our companionship services not only help you or a loved one with mental stimulation, but we can help with arranging transportation to appointments, or visits with friends and neighbors, as well as short day trips and outings. Our companions are trained to monitor dietary needs and eating habits, and assist with personal tasks and light housekeeping.
Sometimes, you or a loved one may need help more than an hour or two every day, limited by physical capabilities, chronic medical conditions, or cognitive impairment. OptimumCare Home Care Services provides live in-home care services, providing personalized attention and round-the-clock supervision. Our live-in caregivers are trained, licensed and certified, and help with a number of personal care and non-medical-based care on a round-the-clock basis. Our staff is trained to reduce fall risks and in the use of assistive mobility devices, as well as in CPR and first aid. We can help provide that extra bit of security and peace of mind when it comes to your loved one.
Sadly, many seniors today don't get adequate nutrition, for a number of reasons. Many of them can't get out to go shopping, while others experience reduced appetite due to medications or medical conditions. Malnourishment of our seniors is a major concern for us at OptimumCare Home Care Services . Our meal preparation services ensure that you or a loved one will have access to nutritious food, and we are familiar and work with numerous medical dietary restrictions including those on diabetic, cardiac, or low-fat diets. Our home health care aides will assist with meal planning, which may include but is not limited to organizing coupons, recipes, shopping, and meal preparation so that your loved one always has something good and nutritious to eat.
Private duty nurse home care services are often requested in a home-based care scenario. Private duty nurses focus on providing compassionate and professionally trained and experienced home health aide and nursing services that meet you or a loved one's needs. Private duty nurses provide personal care as well as companionship services in live-in and respite care scenarios. Private duty nursing is arranged on individualized needs and provides optimal geriatric care management not only in personal care, but also in medication monitoring, and hands-on non-medically based cases where a private nurse offers enhanced security and peace of mind for you or your loved one.
Geriatric Assessment and Evaluation
Before we can provide an optimal care plan for you or a loved one, it's important to assess physical health, functional ability, and cognition. OptimumCare Home Care Services provides a free geriatric assessment and evaluation that, when incorporated with an interdisciplinary team that includes family caregivers, therapists and doctors, we can best devise the exact needs of an individual. We're also aware that conditions change, and ongoing assessment enables us to alter care plans based on the growing needs of an individual.
Transportation and Non-Medical Services
Studies have shown that one of the most common causes for senior citizen isolation, depression, and malnourishment is a lack of transportation. At OptimumCare Home Care Services , we're happy to provide transportation for our clients to their medical appointments, for errands, for outings, and for enjoying time with family and friends. Our drivers are checked for clean license records and insurance, and that their vehicles are safe and well maintained. Or, our drivers can drive your own car. Our nonmedical services also provide light housekeeping duties, and help with activities of daily living, transfers, continence care (help with catheters or ostomies), as well as physical transfers.
We all want our loved ones to be safe in their own home. For this reason, OptimumCare Home Care Services staff place safety in home environments of the utmost importance. Our staff are trained to keep you or a loved one safe when getting in and out of the bathtub, using adaptive devices, toileting, and other aspects of daily activities. Our trained caregivers are well versed in reducing fall risk in home-based environments, and are experienced in offering support to those diagnosed with neurodegenerative conditions such as Parkinson's or dementia conditions such as Alzheimer's.
At OptimumCare Home Care Services , we realize that caregiving is an extremely stressful endeavor. Sometimes, you just need to step away from the situation and take a break. Don't feel guilty about that! At such times, we'll step in so that you can take that much needed break to recharge your batteries and rejuvenate your spirit. Doing so enables you to become a better caregiver for your loved one. Short-term respite care is a temporary option for those who need to focus on themselves or their families, not only to reduce the risk of injury and depression, but also to enjoy time with family or to take that well-deserved vacation. Give yourself a break. We'll step in and take care of your loved one so that you can take care of yourself.
Many family caregivers find that the physical demands of caregiving can be scary. Many family caregivers aren't strong enough to ensure the safety and security of their loved ones. The spirit is willing, but sometimes, the bodies aren't quite up to the task. OptimumCare Home Care Services provides certified nursing assistants and home health aides trained in a number of methods for safe transfers, using assistive devices when necessary. We can help your loved one in and out of the bathtub, to the toilet, and from their bed to a wheelchair or from their wheelchair to a living room recliner. Safety is of the utmost importance. Avoid risking injury to yourself and rely on our trained staff to help you in this aspect of caregiving.
We understand that sometimes it's difficult for our loved ones to get around, especially when they're recuperating from a long-term illness, a surgical procedure or an accident. OptimumCare Home Care Services provides a number of non-medical-based services, including light housekeeping. Whether you need help washing and drying the dishes, helping change bed linens or help with the laundry, light vacuuming, dusting or even emptying the trash, our caregivers are trained to do so quickly and efficiently. Our caregivers are also trained to meet other needs of clients in home-based scenarios, and we'll discuss his or her needs along with family, therapists, and the family doctor to determine the best case scenario that not only promotes independence for your loved one, but also ensures his or her environment is safe and clean.
More than just Rehabilitative Therapy or preventing falls, your skilled nurses at OptimumCare Home Care Services are in the profession of providing compassionate care.
A speech therapist from OptimumCare Home Care Services will provide patients of all ages with Individualized Treatment Plans. Speech Therapy can be tailored for speech-delayed children, for teens to improve communication skills, and adults or seniors who suffer from slurred speech after a recent stroke, among others.
The ability to move, to walk, to run – mobility gives us freedom. Unfortunately, injury and/or disability can reduce that freedom but there is always something that can be done to restore it. At OptimumCare Home Care Services, we have physical therapists who will work with patients in the restoration of their mobility and muscle function.
The Occupational Therapist will focus on Basic Skills Re-Education for you or your patient. They can also facilitate the fitting and education on the use of prosthetics.
One way a Medical Social Worker can help a patient (and family members) is in assisting with Hospital Discharge. It all starts here – and your medical social worker will plan out the services that will ensure you receive continuous care after you leave hospital premises.
OptimumCare Home Care Services hopes to provide complete and compassionate care for the whole family. We care for adults, elderly and even young children with special needs. Whether a child's needs stem from health issues or developmental disabilities, our team of professionals is ready to face such challenges alongside your family.