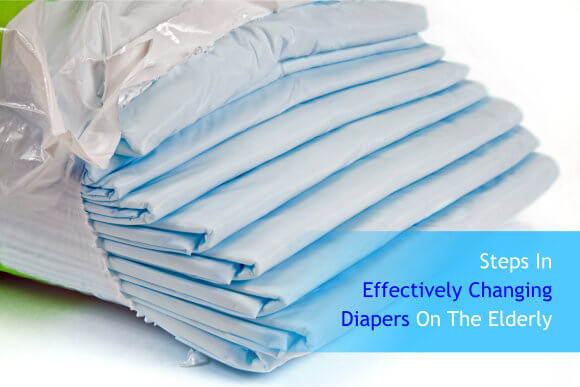 It is often necessary for elderly people to wear adult diapers due to their weak bladder or the urinary problems they are currently suffering from. Wearing adult diapers help them stay clean and also avoid embarrassing themselves.
To prevent infections, rashes, or odor from wearing adult diapers, you need to change them frequently. Here are the steps that OptimumCare Home Care Services recommends you to do to effectively change your elderly's diaper.
Step 1

Prepare all of the things that you will need for the task beforehand. In this manner, there is no need for you to leave your elderly in the middle of changing his diaper. Here are the things that you should prepare:

new, clean diaper
bed pad
moist wipes
a pair of latex gloves
lotion or powder, optional

Step 2

Wear latex gloves to avoid skin contact with excrement. Then, start unfastening the diapers tabs. Gently roll him to his side that faces away from you. Doing so will help you get a clear view of his bottom and easily check it for rashes or infections.

Step 3

Place the bed pad under the patient's bottom. The bed pad serves as protection for the excrement not to make the bed sheets dirty. Roll the soiled diaper gently while removing it from between the elderly's legs. Dispose the used diaper properly by throwing it into the garbage bin.

Step 4

With the use of a moist wipe, you should clean the entire area that has been covered with the adult diaper. These include the thighs, the bottom, and most importantly, his genitals. See to it that you will also clean any skin area that has been soiled. When wiping, make sure that you will do it in a front-to-back motion.

Step 5

After making sure that one side is clean, gently roll the elderly towards his other side. Use a new moist wipe to clean the other side.

Step 6

If you notice irritation or red skin, apply powder or rub lotion on the area. Just make sure that you only apply or rub a little amount of powder or lotion, respectively, to avoid excess moisture which may lead to bedsores.

Step 7

Slide a new, clean diaper between his legs. Straighten it out before fastening the tabs. Roll him onto his back and adjust the diaper to make sure it is not loose.

Step 8

Dispose the latex gloves properly and wash your hands thoroughly with antibacterial soap.
Our caregivers are trained to change adult diapers effectively. To take advantage of our non-medical home care in Opitz Boulevard Woodbridge VA, call us at 703-490-8003 today.