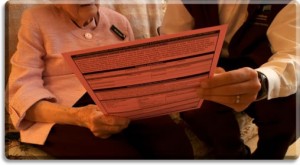 Okay, so you've decided that you want to engage the services of a quality home care providers such as OptimumCare Home Care Services . You may have already discussed some of the needs that you're looking for when it comes to in-home care services that include transportation, meal oversight, safety, companionship, short-term, or live-in care. Regardless of the type of services you're looking for, it's important to provide the caregivers as well as the agency you contract with information regarding advanced directives for your loved one.
Why is this information so important?
Any time someone is taking care of a loved one, it's important to know what they want in regard to medical services in the event of an illness or accident. Adult children and other family members should be aware of these wishes, as should any caregiver providing services. For example, can you answer these questions?
Do you know what mom wants when it comes to end-of-life care options?
Does she want to be placed on a ventilator if required?
Does she want a feeding tube if required?
Does mom want to be given CPR if required, either on the premises by professionally trained and CPR-certified caregivers or by paramedics, or at the hospital?
These are important things to know. Advanced directives are instructions regarding the type and depth of care preferred by your parent or an elderly loved one if they can't speak for themselves. These wishes must be visible. We suggest placing a copy of advanced directives on a refrigerator or in a spot where all caregivers know where that information is kept. That way, the information is visible by the caregiver along with important phone numbers, and can be taken with the client to the hospital if necessary.
Advanced directives will determine the extent of life extending procedures or Do Not Resuscitate orders based on a client's wishes. These wishes should be discussed with family members and your loved one's medical care provider. Copies of advanced directives should be maintained in your loved one's medical records, in the home, and among family members responsible for care.
Be aware of the regulations of advanced directives in Virginia. OptimumCare Home Care Services can help advise clients on the creation of advanced directives, but the decision is yours. Changes can be made to advanced directives, but always keep the most updated copy available for home-based care providers.
Having advanced directives in place will reduce confusion, avoid problems, and ensure that everyone is on the same page when it comes to care in the event of an emergency or event that prevents the client from expressing his or her own wishes.